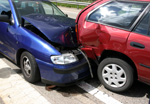 "I drive every day to and from work and I can not live without my car." This is what most people say when they talk about their lifestyle. We live further and further away from where we work, so we need our cars to get anywhere these days. Now, we all know how much I dislike driving on the roads; well, that feeling has just gone up ten fold due to incompetent drivers.
Last week, having been in a car accident where a Ford Transit Van crashed into the back of my brand new car because, as he said "I wasn't looking," I thought to myself, "these things happen." I can understand some people do not pay attention (which may I say, is very dangerous, the one thing you must remember when driving is to pay attention), or are having a bad day, but to be in seven near accidents (none of which would have been my fault) in less than a week is by far ridiculous would you not agree?
One near accident I remember being two cars behind at a roundabout. It was my right of way to go, yet the driver to the left could not be bothered to wait any more so pulled out in front of my car when I was moving. Isn't the point of a roundabout to let the flowing traffic move quickly? So why pull out if it isn't your right of way? I said it wasn't his right of way and he gave me a such a lovely hand gesture and told me where to go. What a pleasure.
I feel like the roads are increasingly becoming unsafe, with people pulling out of lanes just because they do not want to wait, or changing lanes and undertaking. Another near miss was at a traffic light near my home. There are two lanes here, one to turn right, one to turn left and right, then after turning right there are a another set of traffic lights to go straight or turn left which change into three lanes (not as confusing as it sounds!). The lights go green and I am driving to turn right then left straight away at the next set and a lady pulls out into my lane because her lane had a queue? She was not even going to turn left! I beeped to make her aware and was given that wonderful hand gesture again.
According to The Daily Express the country is facing much worse road congestion despite the Government pumping £7billion into a motorway widening programme. Why do they not invest money into the local roads instead? Or take useless drivers off the road altogether to help us feel safer.
However, according to the Department for Transport Study, the congestion on roads is easing. This may be true, even though I personally can not see it, but lack of care from drivers are causing more accidents. By far we are the most uptight drivers in Europe and get annoyed easily by other drivers and people still believe BMW are Britain's worst drivers, they drive aggressively, intimidate other drivers and drive too fast. I personally feel Audi and Mercedes are in the same league as BMW.
Young drivers are facing harder driving tests, with the introduction of the Hazard Perception Test in November 2002 and a vigorous practical test, it is very unlikely for youths to pass first time. Personally I feel they are not the problem, it's the drivers who think "they know what they are doing" that worry me. Again, it comes down to lack of courtesy on the road and "all those years of experience." And it will only get worse unless the Government really see who is causing the problem and find a way to solve this.