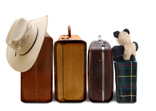 Reports have revealed that the number of British holidaymakers going to Egypt has risen by 38% in the last year, while
Mexico
saw an increase of 23% in 2008 and the number of visitors to
Turkey
has increased by 32%. These figures are set to rise as many of us avoid the euro and traditional popular destinations in search of a bargain break.
Other off-the-beaten-track hotspots for travel this year are predicted to include Peru, Kenya and Malaysia. But as a result the Foreign & Commonwealth Office (FCO) is warning visitors to familiarise themselves with the laws and customs of their destination and check the FCO website for travel advice before leaving.
It also strongly urges travellers to take out comprehensive travel insurance, as well as taking necessary health precautions, such as vaccinations. As I've mentioned in a previous blog post, there's plenty of detailed advice available online for every country, but here's a few basic tips from the FCO to take on-board if you're one of those planning to visit Egypt for the first time this year:
Dress modestly, especially when visiting traditional areas like mosques and souqs (markets). Women's clothes should cover legs and upper arms.
Check whether you need a visa. British passport holders travelling to Egypt normally require one, but if you're visiting Sharm El Sheikh, Dahab, Nuweiba and Taba resorts for up to 14 days, you don't have to carry one. Further info at
If you are driving in Egypt then please take the usual safety precaution of wearing a seatbelt and, if using public transport, do avoid travelling in overcrowded vehicles.
Remember to check with your GP as to which vaccinations you need for your trip. This will vary depending on which region of Egypt you plan to visit but may include: Yellow Fever, Hepatitis A & B, Polio, Rabies, Tetanus and Typhoid (it is very unlikely you will need all of these).
Do take note of these points, but don't let them put you off. Egypt's benefits, including guaranteed sunshine, top class (low cost) hotels, brilliant beaches and unrivalled historical tourist attractions, far outweigh the drawbacks.