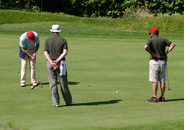 In the summer, Spain has a wonderful warm climate which is ideal for all you Golfers out there! Why not consider going away with your friends for a wonderful golfing weekend in Spain? There are many beautiful and challenging Golf courses out in Spain so we are going to look at our top five and give you some ideas on where you could play.
Fina Cortesin: Casares, Costa Del Sol - This beautiful establishment is in between Marbella and Sotogrande. Here you can really relax as it has swimming pools, tennis courts, gym, sauna, Turkish baths and much more for you to indulge in. The 18 hole golf course, opened in 2006, is exclusive and each hole gives you a unique experience. If you and your friends want a challenge then this is the course to go to! With a difficulty of 4 out of 5, you are bound to have a really good time.
Benalup Golf: Benalup-Casas Viejas, Cadiz - A wonderful boutique hotel with an all inclusive service. With meals at all 5 restaurants included, drinks including cocktails, wines and liquors, the mini bar in the your room, as well as the spa, fitness and tennis courts! The Golf course is wonderful; and if you stay for 7 nights you get unlimited use! The 18 hole course opened in 2001 and has a difficulty of 3 out of 5, so it will be challenging enough for the not so confident players.
Alicante Golf: Valencia/Alicante, Costa Blanca - This hotel actually offers golf at more than one course, so you can pick and choose where you want to play! Alicante 18 hole Golf course offers a difficulty of 3, Alendia Golf Club with another 18 holes and difficulty of 3, Golf and Spa Bonalba 18 hole course with a difficulty of 1 and Foressos Golf with 18 holes and a difficulty of 4. These are just a few you can play, there are many others too, so enjoy your weekend playing at a different course everyday.
Peralada: Peralada, Girona, Cataluna - A wonderful hotel that offers stunning views over the golf course, the Albera Mountain Range, The Pyrenees and the medieval town Peralada! This wonderful 18 hole Golf course is perfect for you and your friends to enjoy a few games on. Great views and great green!
Fuerteventura Golf: Fuerteventura, Canaries - This hotel is right in the middle of the Golf course! Beautiful surroundings and amazingly quiet, this hotel would be ideal if you want to chill out with a beer watching the players outside. The 18 hole course built in 2002 offers a great challenge to the players and with it's peaceful surroundings there is nothing better than a wonderful day of relaxing Golf.
These are our top five courses in Spain, we hope you will enjoy them if you decide to go! A good point to remember is that hiring a car will make your journey to and from the airport with your luggage and clubs a lot easier. Are there any other courses in Spain you would recommend to our readers? Let us know!