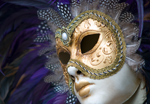 Are you planning a holiday in France in February? Why don't you take part in the Nice Carnival, the most popular winter event on the French Riviera. The best time for the fun loving frolics is to visit Nice in February, when the city loses itself in Carnival excitement, the biggest festival in France.
The Carnival dates back to 1294 when Charles Anjou, Count of Provence, celebrated the first carnival in Nice. Originally, the carnival was a last chance to party before the beginning of Lent (the 40 day fast), where people took advantage of eating, drinking, and being merry before undergoing 40 days of abstinence.
The Carnival takes place over 2 weeks from the 12th until the 28th of February, where the Promenade des Anglais will be buzzing in the morning and afternoon and lit up in the evenings. This year the themed parade is 'King of the Blue Planet' as a sign of our awareness about the protection of nature. It will be represented with floats, vibrant colours, dancers, and confetti.
There are several events that have free admission including the Parade of Lights, the Carnival Parades, and the Fireworks display during the evening. There are several flower parades throughout the carnival. One of the most beautiful to see is the Battle of Flowers where music, charm, and colours are expressed with profusion. Some of the best local cuisine will be available for sampling.
Among the carts and small vendors, you'll find many restaurants participating with special carnival menus. There are also smaller neighbourhood food fiestas that welcome tourists.In addition to the celebration this February, there is much to enjoy in Nice. If you pick up a hire car in Nice, you can explore the Cote d'Azur filled with extraordinary hilltop perched villages and Alps towns. Or you can even drive a short distance to Turin (155 kms/96 miles) in nearby Italy, and enjoy the mountainous drive through the charming towns of Grasse, Castellane, and Digne.
Bon Voyage!