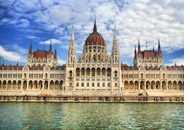 Budapest is the capital of Hungary as well its largest city and is regarded as one of the most beautiful cities in Europe. When you pick up your hire car at Budapest Airport you will have the freedom to explore the whole city and see the many attractions it has to offer. It is most famous for its World Heritage Sites and these are definitely worth exploring while you are on your travels.
The Buda Castle -
The residence of the Kings of Budapest, completed in 1265, it was also called the Royal Palace. The oldest part of the palace was built in the 14th century by the Duke of Slovenia and later King Sigismund of Hungary expanded the palace. The interior of the palace was lavishly decorated but later destroyed in WW2. Today the castle is a beautiful tourist attraction offering stunning views over Budapest.
Andrassy Avenue -
One of the most iconic boulevards in Budapest. It dates back to 1872 and links Elizabeth Square with City Park. The Avenue is like London's Bishops Avenue, lined with mansions and big town houses, was only recognised as a World Heritage Site in 2002. Also being one of the main shopping streets with lots of cafés you will never get bored!
Heroes Square -
One of rich history and political connotations. Lying at the end of Andrassy Avenue, it is the landmark of Budapest, dedicated to the seven tribes that founded Hungary. The monument has two buildings next to it, The Museum of Fine Arts and the Palace of Art. In front of the monument, you will find the Millennium Monument, a stone cenotaph, where behind is the archangel Gabriel. It truly is a wonderful place to go and visit.
Millennium Underground Railway -
The second oldest underground in the world, after the London Underground system! The rail system began construction in 1894 and took 2000 workers to complete in less than 2 years. One of the original cars is preserved at the Seashore Trolley Museum in the USA. The line at the time was only 3.7 kms (2.3 miles) long carrying nearly 35,000 people per day. Today it is still running and carries 103,000 people per day.These World Heritage Sites can not be missed if you are travelling to Budapest, but do not forget there are other attractions too! Did you know that the city also has 80 geothermal springs? It also has the world's largest thermal water cave system, the world's second largest synagogue called Dohany Street Synagogue after the Temple Emanu-El, seats 3000 people and was built between 1854 and 1859; and the third largest Parliament building in the world.
Have you been to Budapest? What would you recommend for your fellow travellers to see?