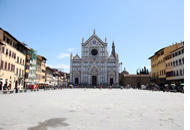 In the city of Florence on Thursday, whilst their national team are (hopefully) getting ready for the knockout stage of the World Cup in South Africa, two teams will be taking part in the Calcio Storico final.
The teams in this years final are Santa Maria Novella and Santa Croce. Each team is made up of 27 young men, volunteers mostly between the ages of 20 and 30, whose aim is to score points.
The game originated in the 16th century and, before the game begins, around 530 Renaissance costume clad Florentines march through the town. The game itself is played on a huge sand pit in the Piazza Santa Croce. The idea of the game is to score as many 'caccia' as possible. The ball is not kicked as it is too heavy, rather it is carried and passed. Goals are not scored, instead the ball has to be thrown over a designated spot on the perimeter of the 'field'.
Here is one referee, six linesmen and a field master. There are also few rules during the 50 minutes of the game. Head butting, punching, elbowing and choking are all legal moves but sucker-punching and kicks to the head are not! You don't even have to be in possession of the ball to attack an opposing player! So if you come up against the bloke whose girlfriend you tried to steal you had better watch your back!
At the end of the game the winning team receive kisses from their team mates, wives/girlfriends and then their mothers - in that order! They are then presented with their prize - a live heifer! A truly magnificent ancient tradition to witness. So, if you miss the good old days of proper football when tackling from behind was allowed and diving was something confined to the swimming pool, this is the game for you! Have you seen the Calcio Storico?