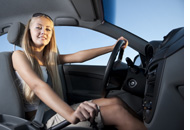 A really interesting question and answer page I found in
The Times
by Dr Mark suggests a pillow that can ease your backache while driving.
The question posed to him was 'I have always been prone to backache, but the problem has become noticeably worse since I changed my car. Can you suggest a cushion that might help to ease the discomfort on long journeys?' and I think that is a really good question.
Car seats are ergonomically designed to fit around us and make our journeys more comfortable and everybody adjusts their cars seat due to different shapes and sizes, but sometimes this just isn't enough. I, for one, sit quite far back in my car because my upper body is a bit longer than my legs. It almost looks like I am laying down while driving!
While my partner has to sit quite far back because he is very tall, but has to keep the seat almost upright so he can reach the wheel! But would a cushion help ease the gap between the lower back and the seat? Not forgetting that our spines have a slight natural curve in them.
Dr Mark says that car makers spend a lot of money trying to make the perfect seat, but it is very difficult catering for all different shapes and sizes. I reckon, in a perfect world, we should have a car seat made to measure!
The suggestion Dr Mark makes is that before you go spending thousands of pounds on cushions like lumbar ones, try and adjust your seat again. You may be sitting too far away so your arms and legs have to stretch to reach the wheel and pedals, this can really put a strain on your back because it has to stay in one position the whole time. If this is the case without any support, then no wonder you'll be getting back pain! I personally suggest that Yoga would be a really good way to increase back strength, as well as adjusting your seat so you aren't over stretched.