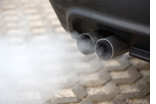 Can you find the CO2 emissions for the vehicle you are thinking of buying on the manufacturer's website? Neither can a lot of others it seems. According to
The Guardian
, a report has been carried out by the Energy Saving Trust, Friends of the Earth Europe and We Are Futureproof that says car companies are confusing their consumers on their website. An online survey that was carried out on members of the public found that only half (52%) were successful. Surprisingly less than 5% came across the widely used A - G energy efficiency label in their attempts to look up information on emissions.
It showed that Mini, Kia, Lexus and Honda had the best usable website for finding this information, while Alfa Romeo, Nissan, Smart and Mercedes Benz ranked amongst the worst. You can view the full league table on the Guardian website to see where all the manufacturer's ranked. Users who tested how long it took to find the emissions; had said that CO2 emissions were not ranked very important on some manufacturer's websites.
Blake Ludwig, MD of We Are Futureproof has said 'More and more people want to choose greener, more efficient cars, but our study shows that some car makers expect them to spend time hunting around confusing websites for information. Other car makers have got it right, putting the data upfront and easy to find, and we think all companies should have to follow this model.
ow easy have you found looking up the CO2 information on manufacturer's websites? Do you think it is important to keep all the information clear where people can find it easily?