If you're planning a family holiday and need to rent a car for your trip, then the chances are you'll require proper seating for your kids, in accordance with the law. Child seats are among the most commonly rented items and are a very important consideration for families travelling with kids. Rental companies normally apply an extra charge for these, which can be added to the rate when making a booking on the Auto Europe website.
Such add-ons are always an additional cost to be considered when budgeting for your trip. Please get in touch with Auto Europe's award-winning rental specialists for more information on child seats by calling us on +44 123 3225 114, and they'll be happy to advise you or add this option to your booking. To avoid disappointment, it's essential that you book child seats and all other types of optional equipment well in advance, because their availability may be limited, especially at peak holiday times, and they will need to be confirmed by the chosen supplier.
Yes, of course! It is perfectly possible to add a baby or child seat to your car rental reservation when making the booking on the Auto Europe website. However, the daily rates for optional equipment such as a child or booster seat are paid locally to the car hire supplier when you arrive to pick up the vehicle at your chosen destination. It's also important to note that all additional options like child seats are normally on request and must be confirmed as available in advance by the supplier, otherwise you might have a problem when you arrive to collect your car.
It's very easy to add any kind of a child seat to your Auto Europe car hire reservation. The first thing to do is choose your destination (and dates) in our state-of-the-art search engine and choose from the many suppliers and car categories that appear in a few seconds. Once that's done, you'll be able to find out exactly how much you'll have to pay for adding a child seat to your booking. This is done by clicking on the blue + Rate Details button which gives you access to the Optional Equipment Information section where you'll find full details and prices of all the add-ons and extras available for your car hire, including child seats.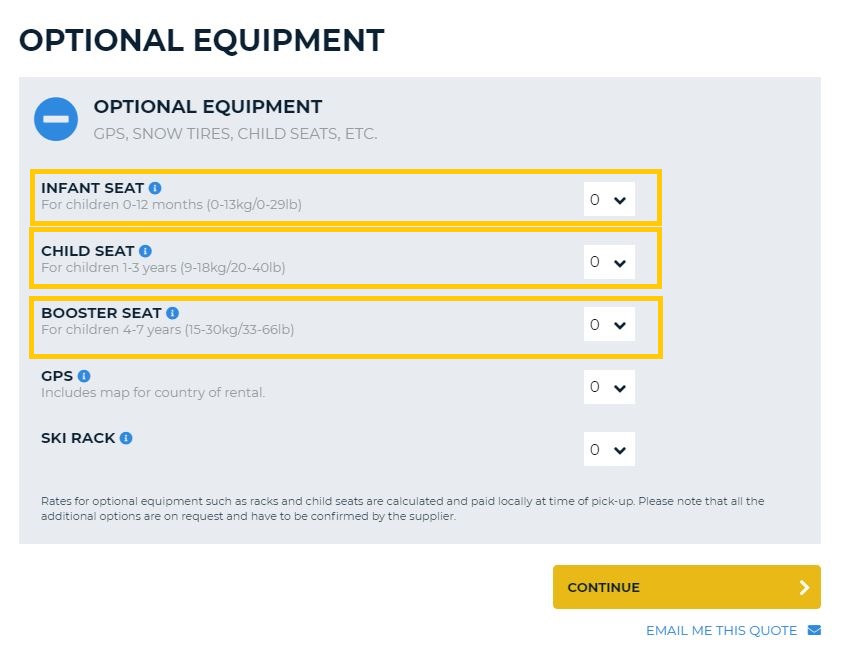 After that, just click on the amber-coloured Book Now button where you'll find the list of optional equipment, giving you the chance to select the exact number of infant, child and booster seats you'll require for your trip. You'll also find full details relating to the age and weight limits of each seat in both kilos and pounds, as well as the cost.
Once again, it's very important to state that child seats can only be booked on request and their availability must be confirmed by the local supplier to avoid any disappointment when you arrive to pick up your vehicle. It's also worth reiterating that the daily rates are also calculated by the local supplier and paid locally to them at the time of pick-up.
Baby/Infant Seat: Up to 29 LBS (0-13 KG)
Baby (or infant) seats are required for babies weighing 29 pounds or less (up to 13 kilos), which is generally from new-born to around 15 months old. These special seats must be placed rear-facing or looking away from the direction of travel, plus they can be placed anywhere in the vehicle, front or back. It's important to note that if the baby seat is positioned on the front passenger seat, then the respective air-bag must be fully disabled before embarking on your journey for reasons of safety. These seats are customised for the baby's body shape in order to help keep them safe and comfortable during the journey, thus making such seats a prerequisite when traveling with infants below the age of 1.
Child Seat: 20 - 40 LBS (9-18 KG)
Child seats serve young kids weighing anything between 20 and 40 pounds, or up to around 18 kilos. These young children are commonly between the ages of 9 months and 4 years old and the seats can be placed in a forward- or backward-facing direction on any of the passenger seats (i.e. front or back). Modern child seats feature improved side-impact protection by utilising softly padded, deep-sided edges. They can also recline to make the child feel more comfortable and relaxed during the journey.
Booster Seat: 33 - 66 LBS (15-30 KG)
Booster seats are typically designed for older children from 4 to 7 years old weighing 33-66 pounds (15-30 kilos), and are placed in a forward-facing position on any of the rear seats as well as the front passenger seat. Booster seats are easy to install and have the kind of robust side-impact protection required for older children. They also feature a padded head-rest which provides a high level of support and comfort whilst at the same time being easy to adjust to the child's height. Booster seats also help to fully secure younger passengers by making sure that the adult seat-belts found in all vehicles both at home and abroad fit snugly over the kid's shoulder and pelvis.
Prices vary from supplier to supplier but are usually set at a fixed daily rate (eg £10 sterling per day, including VAT) which is paid directly to the local supplier at the time of picking up the vehicle. You might find that a maximum rate applies if the vehicle is booked for a certain number of days, thus capping the price at around £50 sterling for a 7-day rental, for example.
When choosing your car rental with Auto Europe, it is important to think about the total amount of space you will need for the actual child seat as well as all the luggage, baby kit etc. you'll be carrying during the rental period. In which case, it's always better to select a larger 4- or 5-door model than a vehicle with only 2 doors, for instance. It's important, therefore, to factor in all the extra luggage you will be carrying before deciding which category of vehicle will be best for your trip.
The first thing to do is make sure that the child seat in question is the one that you actually ordered and most appropriate for the age and size of your child or children. Furthermore, it's very important to check the seat to make sure that it's in pristine condition and that it is fully functional with an adjustable harness, etc. Once fitted, it's best to double check that the seat is secure and ready for the journey ahead. If you are unsure how to fit it in the car, it's best to ask the local car hire staff at the counter for help and suggestions. Usually they won´t fit it in the car for you, but they'll always be happy to explain the process and will make sure that you have a copy of the instruction manual.