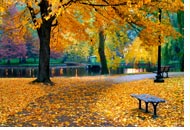 Boston, is a great place to spend a few days relaxing. It is one of the oldest cities in the USA and the capital of Massachusetts. The town has seen several major incidents in its history including the Boston Tea Party in 1773 and the Boston Massacre in 1770.
Made up of several different neighbourhoods, each with its own unique culture, there are many things to see and do in Boston. Dorchester is the largest neighbourhood with a mixture of ethnic restaurants and shops. Franklin Park is a large 2-square-kilometre area with one of the oldest zoos in North America. Back Bay has avenues lined with designer shops and vintage houses, making it a very desirable place to live. Standing 790 ft (241 metres) high, John Hancock Tower is the tallest building in Boston.
Chinatown is the third largest district of its kind in the US and one of the most densely populated parts of Boston. In August they hold the August Moon Festival where local children carry brightly-coloured lanterns and spectators get to eat the city's famous Moon Cakes, sweet cakes with a secret message inside.
Home to Paul Revere, one of America's most famous revolutionaries, North End is the most historic of Boston's neighbourhoods. The main ethnic culture in this area is Italian with some wonderful restaurants where you can enjoy authentic Italian cuisine. Christopher Columbus Park offers musical entertainment during the summer months or just a tranquil place to enjoy an afternoon stroll.
There are twenty-two neighbourhoods in all, meaning that you won't ever get bored in Boston. Which are your favourite places to visit in Boston?