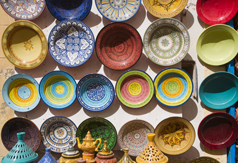 Fed up with cold wet high streets? Then why not book yourself a Holiday to Morocco. You will find unusual Christmas gifts in some of the best markets in North Africa! Shopping in Morocco is a singular experience. In contrast with the western world's retail shops, Morocco shopping consists of visiting an old Medina with several souks. Each one concentrates on a certain type of product, like clothing, jewellery, food or carpets. To get the most from the souks, haggling and shopping around is necessary as the traders exaggerate their initial price. There are no rules, just walk away from a price if you are not happy but always keep a smile on your face!
Two famous markets worth a visit are;
The Medina in Fez
This is a very famous market in the city of Fez where you will find anything from door-knockers to lamps, teapots to tagines, vases to planters - all beautifully crafted. There are different areas for specific types of crafts and goods. One area mainly sell clothing , another sell more leather goods and others selling furniture, ceramics and metal ware. In some metal stores you will see workers hammering away designs on their products.
Marrakech Souk
The famous market in Marrakech contains different souks where you can pick up anything from jewellery, textiles or carpets, to herbs, love potions and donkeys. It extends from Djemaa el Fna to the northern walls. In recent times, a variety of goods are mixed throughout the souk, but most areas are still separate. Among some of the products are: Souk Semarine has fabrics, souvenirs, and a kissaria. Souk Rahba Qdima has rugs, carpets, and sheepskins. Souk el Attarine has perfumes; Souk des Bijoutiers has jewellery.Exploring the souks can be a tiring experience so you may need to relax. Why not collect a car hire in Marrakech and take a drive over the High Atlas Mountains. From north to south, the High Atlas Mountains offer a diverse range of conditions and dramatic scenery for drivers. Tell us all your experiences when you come back! Enjoy...