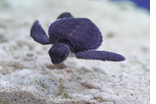 One of the most beautiful creatures in the world are sea turtles. The Leatherback Sea Turtles are the largest living marine reptiles and the majority of their lives are out at sea. The one time of their lives that they are on land are when they are laying eggs on the beach. The name Leatherback comes from their shells which are not the standard hard shells, but softer.
The Las Baulas National Park is on the Pacific Coast in Costa Rica, about 100 km from the border of Nicaragua. This park is one of the few remaining sites that these beautiful creatures nest their eggs on the beach. These creatures are in decline around the world. This is due to poaching, beach development and accidental capture from fishing nets. The project in Costa Rica in the park is dedicated to protecting these creatures as over the thousands of years they have been declining.So what can we do to help? Why not experience an opportunity of a lifetime and volunteer to help save these beautiful creatures. It is a wonderful thing to do and you will help save an endangered species. During your time here you will:
Work: Assist in all areas of the project work from collecting data to relocation of the nests. You will be given training on site so you will learn something new during your stay.
Accommodation and Food: You will stay close to the beach in rooms with a bathroom and air conditioning. Your meals will be at the local restaurant and it will be a great time to make new friends as everyone eats together.
Transport: You will be doing a lot of walking on and off the beach and there will be a van for trips that are a bit longer. To get to the site you need to arrange your own means of transport.
Communication: There is a telephone line which is used for all forms of communication, phone, fax and email.You can also take part in other projects, such as building a house for the National Park volunteers, cleaning debris of wood from the beach so more turtles can nest and an ongoing education program with the local schools.When you are not working you can enjoy the tourist attractions nearby such as Tamarindo Estuary with many different species of plants and animals. You can choose to hire a car and explore the country of Costa Rica, enjoy some surfing and enjoy the views. So why not consider volunteering for this wonderful project and in your spare time hire a car in Costa Rica and enjoy what this country has to offer while having a rewarding experience?
Have you actually taken part in the conservation project? Let us know your experiences and any advice for others considering going.