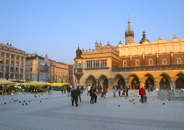 Krakow is one of the oldest cities in Poland and its old town was listed as a UNESCO World Heritage Site in 1978. Once the capital of Poland, it is rich in history and has become a popular tourist destination in recent years with Ryanair and easyJet both servicing the city. Here are our top five thing to see in Krakow:
The Wieliczka Salt Mine - The mine produced table salt from the13th century until 2007 and is now a tourist attraction. There is a wooden staircase 64 metres down to the first level of the mine, 378 steps. It is a labyrinth of passageways, chambers and sculptures all carved in salt The chapel of St. Kinga is magnificent and the Warsaw Chamber, which is 122.5 metres below ground is a great place to experience a concert because of the unique natural acoustics.


Wawel Cathedral - Situated on Wawel Hill this Gothic cathedral was built in the 14th century and is Polands most important national sanctuary. There are eighteen chapels around the cathedral which display many art treasures. The Chapel of the Holy Cross has Russian Mural dating back to the 15th century and the Sigismund Chapel is Renaissance art at its best.
Wawel Castle - One of the most beautiful and romantic royal houses in Europe. The State Rooms have magnificent tapestries and painted ceilings to admire. The Renaissance courtyard is impressive and the Royal Audience Hall with its sculptured heads in the ceiling is also worth seeing. The Treasury and Armoury houses a wonderful collection of swords and weapons many of which are either jewel encrusted or oriental.


Ethnographical Museum - The museum is in the old 14th century Town Hall which has a lovely Renaissance facade. There are regional costumes from all over Poland and a wonderful display of painted Easter Eggs. The ground floor has a chain of rooms which are authentically recreated interiors from different regions around Poland.


Market Square - The square is the largest Medieval town square in Europe. Here you can see St Mary's Basilica, a Gothic 14th century church with its fabulous wooden altarpiece and lovely stained glass windows. Every hour a trumpet is sounded which breaks off mid-stream in remembrance of the 13th century trumpeter, who was shot in the throat whilst sounding the alarm when the Mongols attacked. There are plenty of cafes in the square where you can sit, relax and soak up the atmosphere.
Have you been to Krakow? What are your favourite places to visit?