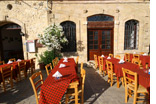 As you might expect, Cypriot cuisine has mostly evolved from Greek and Turkish cuisines with some Lebanese influences.
If you are eating in the South of the island you will find the Greek influence stronger and Turkish if you are in the North. Spices and herbs play a major part in Cypriot cooking with cumin and coriander giving it a distinctive aroma. Mint is also widely used especially in meat dishes such as keftedes (meat balls) as a contrasting flavour. Other commonly used spices are thyme, oregano and parsley.
Main dishes include Souvlaki, which is shish kebab and gryro (doner kebab). These are usually made from chicken or lamb and grilled over charcoal. They are typically stuffed into pitta bread or wrapped in a flat bread along with salad.
Greek Cypriots tend to use pork rather than lamb for these dishes. Kleftico, slow cooked lamb shank, is also a traditional dish.
Meze is a popular choice in Cyprus. It is a large selection of hot and cold dishes and would usually be olives, taramosalata, tzatziki, lamb chops and kebabs served with fresh bread and mixed salad. This can be served as a starter or a main meal.
What are your favourite Cypriot dishes?