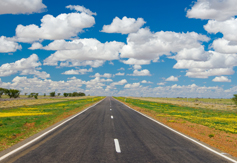 Queensland, Australia is a state with a wealth of fantastic places to visit, perfect for a car hire adventure. Though with the flight being 24 hours long I would recommend that you wait at least a day until your collect your vehicle!Here we have picked our favourite places that are slightly off the tourist track but should not be missed when holidaying in the Sunshine State:
The Gemfields - Located just outside Emerald you can explore the small towns of Sapphire and Rubyvale, with their names matching the gems mined here./p>
Mackay - Here you can access the Great Barrier Reef and the Whitsunday Islands. Before heading off to sea stop by the Botanical Gardens to see the flowers in bloom.
Bowen - The setting for the film Australia, here you can enjoy bush walks and strolls along beautiful sandy beaches.
Cairns - A tropical paradise, perfect for scuba diving and snorkelling. Although there is no natural beach there is The Esplanade with a man made sandy beach and a saltwater swimming lagoon, free from jellyfish!
Australia has just entered its spring season, making now a great time to travel as you have warm sunny days with the nights a touch cooler. But don't forget your mosquito repellent, the great 'Ozzy mozzy' bites hard! Do you know of any other great places in Queensland?