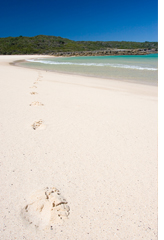 New South Wales, Australia's most versatile state. Enjoy lovely beachside resorts in the summer and ski the slopes in the south of the state in winter! New South Wales really can cater for any holiday choice. If you are lucky enough to travel to this gorgeous state do not miss out on the following places.
Coffs Harbour
- Right at the top of New South Wales, bordering with Queensland this tropical paradise is packed with great nature spots and the 'Big Banana'
Port Stephens
- Stunning shoreline where you can enjoy dolphins at play! There are lots of great hotels here but do not worry the coastline has been kept free of skyscrapers allowing for amazing views over the bay.
Sydney
- The most visited place in Australia, packed with so many great tourist attractions, and that's just by the harbour! Bondi beach is the place that everyone flocks too, but a little secret, take the Bondi to Coogee walk and you will discover lovely beaches that are not as crowed.
Jervis Bay
- Amazing beaches with crystal clear waters. The white sands at Hyams here have made it a great tourist spot. Yet the beauty of nature remains. This is a perfect place for a day on the waters, sailing and fishing are very popular. There are so many more fantastic places to visit and having a car hire gives you the freedom too choose where and when you want to go.
New South Wales, perfect in any season! If you was to travel to Australia where would you head to?