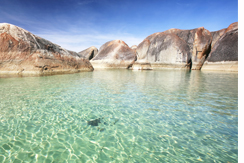 Western Australia, this vast country's largest state is packed full of sun drenched beach resorts, exciting places to visit, wildlife and the mysterious outback. A great state to explore with your car hire here are some places that should not be missed:
Broome
- You will astounded by the beautiful scenery in Broome. You have the contrast of the red cliffs in the outback to the crystal blue waters of the ocean. With its laid back vibe it's been a favourite spot for artists and musicians, it's a top choice for back packers too!
Margaret River
- A fantastic town that boasts some of Australia best vineyards surrounded by picturesque countryside. Here you can relax and enjoy fine wine gourmet foods. If you feel the need to work off all of that great food you can take to the coast for a spot of surfing!
Perth
- A vibrant city with a relaxed feel. Swan River is a perfect spot for lazing by the waters edge. Take a twilight river cruise and enjoy the city's night skyline.
Laverton
- Head inland to the Outback. Once a gold mining town, you can step back in time and learn a little history with the friendly locals. A true of taste of Australia that has so far remained untouched by mainstream tourism.
Western Australia is a great place to visit any time of the year. If you like it hot, holiday here in summer, or enjoy the mild winter weather, which is still shorts and t-shirt weather for us Brits! Interested in visiting Western Australia, when and where would you go?