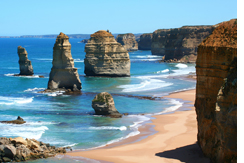 The versatile state of Victoria has everything for the beach lovers to the thrill seekers! It's a great place to explore as it has style, excitement, history and natural beauty. Here are our choice of places to try out:
Great Ocean Road - One of Australia's most travelled roads. Along the journey you can experience towns with colourful historic pasts, sleepy beachside resorts and major tourist spots. The famous 12 Apostles are what most people take this journey for. When you arrive here and count the massive rocks standing tall in the ocean, you will find only 8, but don't feel short-changed, it truly is an amazing sight!
Melbourne - Victoria's lively and stylish capital city. Here you can enjoy trendy cafe's hidden along the city side streets, fantastic shopping, great festivals and historic buildings. It's a perfect place for a fun packed few days!
Phillip Island - Home to penguins, koalas, kangaroo's, wombats and emu's! Every year they also hold the Superbike World Championship, V8 Supercars and the Australian Drivers Championship. You could say it's quite the versatile island!
The Murray River - A great trip idea is a house boat on The Murray River. Flowing from New South Wales to Victoria and out to the Ocean. Along the banks you can enjoy sandy beaches, bushland, red gum forests and be able to stop off at great towns along the way.Victoria is a state that is best explored in the comfort of your own car hire. You are free to choose when and where you want to travel and how long you wish to stay there for!
Can you suggest any other great places in Victoria?