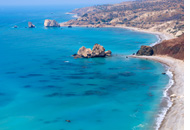 Paphos is in the south west of Cyprus and is the mythical birthplace of Aphrodite. One of the top tourist destinations, Paphos is steeped in history. The Tomb of the Kings, which is just northwest of the harbour, is where about 100 Ptolemaic aristocrats that lived here between 3BC and 3AD are buried. The catacombs of Agia Solomoni, with a pistachio tree marking its entrance, were carved into Fabrica Hill in the 4th century B.C. These underground chapels have some interesting frescoes and writings on the walls left by 13th century Crusaders. You will find the tree adorned with pieces of cloth which have been tied to it by people who believe that doing so will cure ailments.
The Baths of Aphrodite, where legend tells that the goddess bathed every day, is a natural grotto where the water is supplied by a natural spring. It can be accessed by walking along the Aphrodite Trail from where you can experience stunning views across the bay.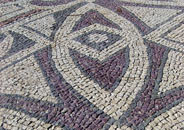 The Mosaics of Paphos are floors of noblemen's villas showing scenes from Greek mythology. There are 5 villas, some of which date back to the second century A.D. The villas are part of a larger archaeological site where there is also a theatre and a castle.
Just north of Paphos is Coral Bay a long sandy beach with clear blue water, perfect for relaxing and soaking up the sun. There are also plenty of water sports for those who don't like to sit still for too long.
The Ayios Neophytos Monastery, about 20 minutes away from Paphos, is thought to have been founded in 1159 by a Cypriot hermit called Neophytos. He carved a series of grottoes into the mountain rock in which can be found religious frescoes. The monastery is below the grottoes and is home to just a small number of monks and a collection of icons. There are lots of places to visit both in and around Paphos. So why not hire a car and make the most of your stay in Paphos and discover the interesting history of this beautiful city.