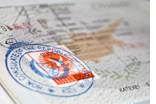 If you are looking for a holiday with a difference why not visit Finland. Turku will be the European Capital of Culture in 2011 together with Tallinn in Estonia.
There is lots to do in this beautiful country such as going hiking across the pleasant countryside or cruising among the many islands on a boat. The best way to see Finland is to hire a car and discover its natural beauty at your leisure. We have put together some tips on driving in Finland to make your trip more enjoyable and less stressful.
The Finnish drive on the right. If you go during the winter you will need snow tyres (December to February). All vehicles must use headlights at all times outside of built up areas. You will also need to watch out for stray reindeer or elks!
Parking restrictions are clearly shown, but in general you should park in the direction of traffic. Most cities have designated parking areas where you pay at a meter. Some areas require pre-paid parking vouchers which should be displayed on the dashboard.
Speed limits in Finland are 120kph (74mph) on motorways, 50kph(30 mph) in towns and 100kph (62mph) on major roads. There are no toll roads in Finland.
It is compulsory to wear seat belts in both the front and rear of the car. Children under 12 have to sit in the rear and use a child seat or normal seat belt.
If you intend to travel outside of Finland in your hire car check to make sure that you are permitted to do so. There are several places that are restricted such as Estonia, Latvia, Belarus, Lithuania and Ukraine.
Do not drink and drive! Blood/Alcohol limit in Finland is 0.05 and the law is strict. The police carry out random roadside tests and if you are found above the limit you will be arrested.
We hope you have a safe and enjoyable trip if you are heading to Finland.
If you have been why not share your experiences with us.