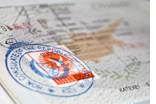 Are you going to hire a car on holiday to Italy this year? Do you know the rules of the road? Here are a few hints and tips before you set off on your journey through Italy. Italy has a really good road network that is one of the most extensive in Europe. Italy also has a high car ownership ratio, so on some occasions the roads can be busy. But with stunning scenery, sitting in a little traffic could be bliss!
Rules of the Road: You may not know that traffic drives on the right hand side; and the centre lane of a three lane road is for passing. Police can give you an on the spot fine for a traffic violation.
Car Rental Requirements: Now, to rent a car you have to be at least 18 years old and have held a license for at least 1 year. If you are under 25, then some companies may charge you a little extra. Everybody in the car must wear a seatbelt at all times and please don't drink and drive! The alcohol limit for driving is 0.08.
Speed Limits: It is always good to know the speed limits of another country, we don't want you getting stopped by the police and facing a ticket!
City: 30mph/50kph
Open Roads: 66mph/110kph
Highways: 81mph/130kph
Fuel: Good to know that fuel stations are open from 7.00am to 12.30pm and from 3.30pm to 7.00pm. Most are closed on Sundays, but there are a few 24 hour stations along some of the highways.
Tolls: There is a toll super highway in Italy called Autostrade. Toll cards can be bought at banks or at the Automobile Club d'Italia (ACI) offices.
Parking: You can only park on the right side of the street. You can park in blue zones with a parking disc, again obtained at the ACI offices or a gas station; and you can only park for one hour in certain parking zones.
If you need any other advice on Italy, why not have a look at some of our guides, such as Driving Information and Rental Information.