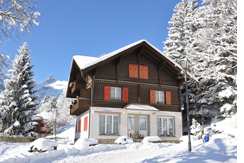 Switzerland is a top ski destination and with winter now upon us it is time to start booking your car hire in Switzerland! Here are a few handy facts to help you when driving the Swiss roads:
You need to take particular notice of the road signs as in some areas it is compulsory to have Snow Chains fitted to at least two wheels. The areas in which you need to have them fitted will be sign posted.Minimum driving is age is 18, however most car hire companies have a minium renting age of 21 years and may impose a young drivers surcharge.
Switzerland's speed limits are: 31mph/49kph for the city roads, 50mph/80kph on open roads and 75mph/120kph for the highways.
You must display a toll sticker when driving on the highways, you will be fined if no sticker is displayed. Most rental cars come with the sticker and if required you can purchase them for the border crossings at petrol stations.
Petrol stations are open from 8am to 10pm. You may also see self-service stations where you can pay via credit card or Swiss Francs at the pump.
A new law came into place April this year. All children up to the age of 12 years must be placed in a child restraint. Children measuring more than 150cm will be excluded from this rule.We hope that these points help you along your way and make your holiday that little bit more easier!
Have you driven in Switzerland? Tell us of your experiences.