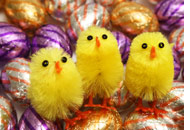 When the Easter Holidays come around (not long until April!) You will have a wonderful 4 day weekend to spend with your kids. But what are you going to do with them? There are many events going on in London so your little ones will not be bored! There are many places in London doing Easter Egg Hunts and lots of other things so let's take a look at what is going on in London.
Kew Gardens: They are opening a new outdoor play area called Treehouse Towers! It has giant swings, zip wires, scramble nets and slides. Great for your kids aged between 3 - 11 years old! That's a shame, I wanted to go! There is also a free Easter egg hunt on 4th April from 9.30am - 12.30pm.


Kenwood House: With an Easter egg trail throughout the ground you'd be mad not to take your kids to this beautiful English Heritage site. This runs from the 2nd - 5th April and children only need to pay £1 for a trail sheet. After they have found all the wooden eggs they can trade them for a chocolate prize! After this why not take them around the house and gardens which is free entry!


WWT London Wetland Centre: Now I know for a fact you will not be able to resist this season at the Wetland Centre. March and April are possibly the cutest month as there will be little ducklings wandering around the ground. They can also take part in Easter egg hunts and storytelling sessions.


The Foundling Museum: This Easter egg hunt takes place on Saturday 11th April. It is free entry for children with an accompanying adult and doors are open from 10.00am - 5.00pm. You can follow the Easter trail and get a yummy chocolate prize at the end!


Victoria and Albert Museum: This museum is doing something different for Easter. Create your own Superhero! With 2 weeks worth of workshops from 6th - 10th & 13th - 17th April your kids will be able to take part in a whole range of activities! Become a master of disguise, write your own story, track down Superheroes with the trails.
All these activities going on make me wish I was a kid again, hunting for chocolate, making crafts and having loads of fun! What are you doing for Easter?