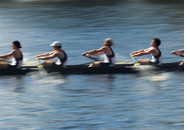 If you want something exciting to do with your kids over the Easter weekend, why not consider going into London to watch the Oxford vs. Cambridge boat race on April 3rd?
The race comes from a great history of two friends who went to school together, Charles Merivale, a student at Cambridge and Charles Wordsworth a student from Oxford. In 1829, Charles Merivale sent a challenge to his friend in Oxford and thus, the race was born.
The first race took place at Henley-on-Thames in Oxfordshire where Oxford won. The event was such a huge success that the Henley Royal Regatta was born. During the first few years the races took place at Westminster in London, but as this borough got too crowded they moved six miles upstream to Putney. The race has taken place every year since it started, except for the war years.
Only students at either university can participate and whoever makes the team goes through gruelling training everyday whilst juggling their studies. The course is 4 miles and 374 yards (6,779 metres), can you imagine rowing that far? I can't even run that far!This year is going to be just as big as the last year. Cambridge with 79 wins and Oxford with 75, it's anyone's game! Will either be able to beat the course record of 16 minutes and 19 seconds set by Cambridge in 1998?
I think you should get your self down to London on April 3rd at 16.30, park yourself somewhere along the Thames between Putney and Chiswick, drink in hand and enjoy the race. I know I will be there!