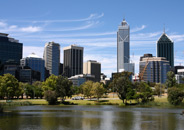 Perth is the largest city on Australia's western coast. It ranks eighth in the World's most liveable cities and is widely known as 'The City of Lights'. This is because the residents of Perth lit up their homes as the American Astronaut John Glenn passed the city in space in 1962; and then again in 1998. There are some wonderful experiences to be had in Perth and with temperatures ranging from 7 - 31 degrees, you are bound to enjoy your time here any time of year.
The city lies on the banks of Swan River, which is absolutely beautiful. There are over 80kms of white sandy beaches, unspoilt and clean for you to relax and unwind, or if you fancy, go swimming or surfing! Visit Kings Park and Botanic Garden, which is the green heart of the city. Being the most popular visitor destination in Perth, you won't want to miss being able to hire a BBQ and enjoying the great outdoors, in a city! It also houses a beautiful collection of flora with 319 native plants and 80 species of bird. If you fancy something really different, why not watch a movie in the outdoor cinema? Or just sit in the café and have some coffee and cake.
Perth's Mint is a multi award winning attraction! It is one of the world's oldest mints that is still in operation from it's original premises. For over 90 years the gates were locked to the public, but it is now open as a popular tourist attraction You can experience the gold rush, handle over AUD 400,000 worth of gold bullion, find out the value of your weight in gold and even create your own personalised gold medallion.
The Bell Tower is one of the largest musical instruments on the planet which was custom built for housing the bells of Saint Martin in the Fields Church, the parish church of Buckingham Palace in Trafalgar Square in London. They date back to before the 14th century and is the only place where you can sit and view bell ringing in action, or even have a go yourself!
There is so much more to enjoy in Perth such as the Art Gallery or if you want to enjoy the night life, head to Northbridge or Subiaco. If you are looking for something little more relaxed go to Scarborough or Cottesloe.
There is anything and everything to do in Perth, if you want to relax or take part in extreme sports they will have it! If you are travelling, it is a great place to experience. Have you been to Perth? What have you done while you have been over there?