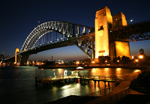 Whenever you visit Australia during March there are a plethora of events to keep you entertained, whether you like the excitement of Formula 1 or just prefer to enjoy listening to classical music in the park. Listed below are some of the highlights:
Victoria
Australian Grand Prix - Melbourne 25th to 28th March. Can Jensen Button win here again like he did last year and go on to win the title? Albert Park in Melbourne hosts the second race in the F1 2010 season. The excitement and sheer exhilaration of this event makes for an unforgettable experience. As well as the racing there is lots of off track entertainment including a carnival which makes it a perfect day out for all the family. Melbourne Food and Wine Festival - 12th to 23rd March. The largest celebration of its kind anywhere in the world. Visit the Theatre of Ideas and get inspired by top Michelin star chefs like Massimo Bottura or attend one of the master classes and learn how to make the perfect souffle! The Earthly Abundance Dinner in the Praharan Market on 17th is a must. You can enjoy canapes and wine in the market square before sitting down to a magnificent three course dinner prepared by top chefs from America.
Australian Capital Territory
Canberra Festival - 6th to 14th March. Nine days of exhibitions, music, sporting events and theatre. Witness the Balloon Spectacular and watch the many balloons ascend into the morning sky whilst enjoying a relaxing breakfast. Or why not book a flight in one and experience it first hand? Enjoy listening to the Canberra Symphony Orchestra in Commonwealth Park or if you like your music a bit more up beat there is the free Celebration in the Park concert.
New South Wales
Audi Sydney Harbour Regatta - 5th to 7th March. The largest yacht racing championship in Australia. As well as watching the magnificent yachts there are plenty of other activities going on: Fashion parades, remote control yachts, live entertainment and on Saturday evening watch the spectacular firework display.
South Australia
International Rugby Sevens Adelaide 2010 - 19th to 21st March. The Australian Rugby Sevens takes place in Adelaide in March and is one of the eight tournaments that make up the series. 16 international teams play 44 games over the two days so it is sure to produce some excellent entertainment. Australia will be trying to improve their position and trying to stem neighbouring rivals New Zealand who are currently dominanting the competition. They will also be trying to gain ground on England who are just 10 points ahead of them. A must for all rugby fans!