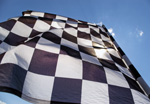 The Australian Grand Prix takes place on Sunday 28th March in Albert Park, Melbourne. It is the second race of the season and is the home venue of Red Bull's Mark Webber. As well as the main race there will be live music, rides and entertainment over the four day event. There are also other races featuring V8 Supercars and Formula 5000 to whet your appetite. If you are lucky enough to be going to the race then you should also visit the city of Melbourne. There are many lovely buildings and parks to visit such as the Flinders Street Station or Carlton Gardens.
Getting back to the Formula 1, the first race of the season in Bahrain gets underway this weekend. The first practice session took place this morning with Force India's Adrian Sutil setting the fastest lap (1:56.583). Ferrari were second (Ferrnando Alonso) and Fourth (Felipe Massa), McLaren were fifth (Jenson Button) and sixth (Lewis Hamilton). Michael Schumacher in his Mercedes came tenth. The circuit has been extended this year by about half a mile with 5 extra bends after Turn 4. Whilst not new, it is not used much and so won't have the same grip as the rest of the track and in places is much narrower than other sections.
The second practice session saw the teams trying out some fully fueled runs. The Hispania Racing Team experienced problems with hydraulics but Bruno Senna managed to complete 17 laps. Mark Webber had a few problems with his car in the afternoon session and hence only did 12 laps and finished 17th. McLaren and Mercedes dominated the top 4 finishing positions. Not conclusive by any means as there is no way of knowing how much fuel the cars had on board when they set their fastest times. For the curious though, Nico Rosenberg was first (1:55.409), Lewis Hamilton second (1:55.854), Michael Schumacher third (1:55.903) and Jenson Button fourth (1:56.076). Last year Jenson Button won, but Felipe Massa, Fernando Alonso and Michael Schumacher have all also won here previously.
Who do you think will win this year at the Sakhir track?