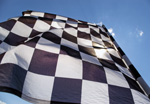 Congratulations to Sebastian Vettel on winning the 2010 F1! It was a double whammy for Red Bull this year, with them winning the constructors crown in Brazil last week.
What a final to watch! From the first flag the excitement was non-stop. Alonso and Webber had issues with their tyres, leaving them following the track marks of Vettel. Hamilton tried his best to push Vittel but on lap 23 got stuck behind Kubica, who secured fifth place and did the most overtaking in the race with his Renault team mate Petrov also securing a well-deserved sixth place!
Let's take a look at the overall results:
Sebastian Vettel RBR-Renault
Lewis Hamilton McLaren-Mercedes
Jenson Button McLaren-Mercedes
Nico Rosberg Mercedes GP
Robert Kubica Renault
Vitaly Petrov Renault
Fernado Alonso Ferrari
;Mark Webber RBR-Renault
Jamie Alguersuari STR-Ferrari
Felipe Massa Ferrari
Well it's been another great year of F1 and we can't wait until 2011, will we have some new contenders? If you're now at a loss as to what to do this winter why not book a weekend getaway and hire a car with Auto Europe!