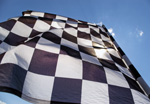 The eagerly awaited F1 season got under way yesterday in Bahrain but did not live up to the high expectations of fans or the drivers. Sebastian Vettel started in Pole Position, with Felipe Massa and Fernando Alonso second and third respectively. Lewis Hamilton started fourth, Nico Rosberg fifth, Mark Webbersixth, Michael Schumacher seventh and Jenson Button eighth.
Vettel led for most of the race. By lap 29 Alonso was just 1.5 seconds behind Vettel. In lap 33 the Red Bull car lost power due to what was initially believed to be a problem with his exhaust. It later transpired that it was in fact a spark plug problem. Alonso took the lead in lap 34 and Massa went second in lap 35. Despite this Vettel managed to finish fourth with his Red Bull team mate Mark Webber finishing eighth.
Two of the three new teams didn't get off to the best of starts. Both Virgin cars failed to finish the race with Lucas di Grassi not getting past lap 2 with hyraulics problems and Timo Glock retiring in lap 16 with gearbox issues. However, Richard Branson remained confident that lessons would be learnt and they would be better prepared for the Australian race in two weeks time. The Hispania Racing Team also got off to a bad start with Karun Chandhok spinning into a barrier after hitting a bump in the first lap and Bruno Senna having to retire after 18 laps when a broken water clip caused his car to lose all its water and overheat. Lotus however managed to do better with Heikki Kovalainen finishing fifteenth and Jarno Trulli getting 46 laps complete before experiencing hyrdraulics problems.
The new rules on re-fueling and tyres means it is a different type of race to what the drivers are used to. So whilst this may not have been one of the most exciting F1 races ever, the season should get better as the drivers adapt their driving style and techniques. Maybe the best race will be the last in Abu Dhabi
Final top 10 positions:
Fernando Alonso/Ferrari/1:39:20.396
Felipe Massa /Ferrari /+16.0 secs
Lewis Hamilton/McLaren-Mercedes/+23.1 secs
Sebastian Vettel/ RBR-Renault/+38.7 secs
Nico Rosberg/Mercedes Benz GP Ltd/+40.2 secs
Michael Schumacher/ Mercedes Benz GP Ltd/ +44.1 secs
Jenson Button/ McLaren Mercedes / +45.2 secs
Mark Webber/ RBR-Renault/+46.3 secs
Vitantonio Liuzzi/Force India-Mercedes/ +53.0 secs
Ruben Barrichello/Williams-Cosworth/+62.4 secs.
What did you think of the race? Have the new rules made the race to processional?