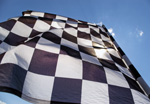 Yet again, the Red Bull cars of Mark Webber and Sebastian Vettel took the first two spots on the starting grid. Lewis Hamilton started from third and Fernando Alonso was second.Vettel got off to a good start, but Webber was overtaken early by Alonso. Hamilton lost third place to Vitaly Petrov early on as well. Jenson Button started 11th but was back in 14th just after the start. Vettel set a great pace and by lap 9 was 8 seconds ahead of Alonso. Lap 16 saw the emergence of the safety car and after that several things happened. A wheel flew off of Nico Rosberg's car into the pit lane, but luckily no one was injured. Seconds later more drama in the pit lane when Robert Kubica and Adrian Sutil collided.
Lap 24 saw the end of Hamilton's race when his gear box went. Vettel was investigated for falling more than 10 lengths behind the safety car and the 25 second drive though penalty cost him dear. Webber took the lead and Vettel was on Alonso's back desperate to get at least second. By lap 43 Webber managed to gain a 23 second lead which he took advantage of and made his pit stop. He re-joined the race still first.
Another joyous moment for Mark Webber must have been on lap 60 when he lapped Michael Schumacher! Must have upset Schumacher as two laps later he began a battle with Rubins Barichello which culminated in him nearly shoving the Brazillian into a wall. Schumacher has received a 10 place grid penalty for the next race in Belgium on Bank Holiday weekend.
Mark Webber cruised over the winning line for the fourth time this season, taking him to the top of the drivers championship table.