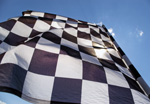 With only 4 races to go Red Bull showed that they were still after all the spoils!! After a couple of not so great races they were back in form and took pole position and second on the grid. There was drama from the start as Lucas di Grassi crashed out on the warm up lap. Vitaly Petrov spun into a wall just after the start and Felipe Massa ended up on the gravel after taking Nico Hulkenburg's front wing off! The safety car came out and it was to be lap 6 before the race could start properly!
Robert Kubica got off to a good start and managed to grab second place from Mark Webber, but by lap 3 he was also out of the race after his car ground to a halt when his right rear wheel flew off!Once the safety car was in the Red Bulls were away. Vettel kept ahead of the pack with Webber maintaining second place. The race was theirs for the taking with Fernando Alonso unable to catch them. There was a fight for fourth place between Lewis Hamilton and Jenson Button. Although I think Hamilton would have been happy just to finish this race after failing to do so three times in the last four races!
Sebastian Vettel may have won the race, but Mark Webber made sure he didn't take all the glory setting the fastest time on the final lap. So, only 3 races to go and only 14 points between first and second in the drivers table. Next race is in Korea a new addition to the F1 calendar and which only passed FIA inspection today! I still think the Red Bulls have what it takes to win this year, and will repeat their wins in both Abu Dhabi and Brazil. What do you think?
| Driver | Team | Time |
| --- | --- | --- |
| 1. Sebastian Vettel | Red Bull-Renault | +1:30:27.323 |
| 2. Mark Webber | Red Bull-Renault | +00:00.905 |
| 3. Fernando Alonso | Ferrari | >+00:2.721 |
| 4. Jenson Button | McLaren-Mercedes | +00:13.522 |
| 5. Lewis Hamilton | McLaren-Mercedes | +00:39.595 |
| 6. Michael Schumacher | Mercedes GP | +00:59.933 |
| 7. Kamui Kobayashi | BMW Sauber-Ferrari | +01:04.038 |
| 8. Nick Heidfeld | BMW Sauber-Ferrari | +01:09.648 |
| 9. Rubens Barichello | Williams Cosworth | +01:10.813 |
| 10. Sebastian Buemi | Torro Rosso-Ferrari | +01:12.864 |
Drivers Championship Table
| Driver | Team | Points |
| --- | --- | --- |
| 1. Mark Webber | Red Bull-Renault | 220 |
| 2. Sebastian Vettel | Red Bull-Renault | 206 |
| 3. Fernando Alonso | Ferrari | 206 |
| 4. Lewis Hamilton | McLaren-Mercedes | 192 |
| 5. Jenson Button | McLaren-Mercedes | 189 |
| 6. Felipe Massa | Ferrari | 128 |
| 7. Nico Rosberg | Mercedes GP | 122 |
| 8. Robert Kubica | Renault | 114 |
| 9. Micahel Schumacher | Mercedes GP | 54 |
| 10. Adrian Sutil | Force India-Mercedes | 47 |