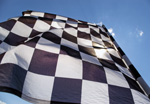 Well, this weeks race at the newly inaugurated track in Korea was certainly one to remember! Only given the green light a week prior to the race, the rain made sure that the track was one of the most difficult of the season. With Red Bull once again in pole and 2nd on the grid, it looked like they were sure to get enough points to secure the constructers title and be a few steps nearer to the drivers title. Hmmm.... maybe not!
The rain meant that the race started late and the safety car was out for an incredible 17 laps. It was early on that it started to go wrong for Red Bull. Mark Webber lost grip on lap 19 and spun into a wall taking Nico Rosberg out with him. So, after just one lap of racing the safety car was out again for another 4 laps.
Sebastian Vettel led for most of the race, whilst Webber was hoping for it to be called a day before lap 42 so he could get some points. But this was not to be and on lap 48 Vettel's engine blew up and ended his race as well. So, for the first time this season, and hopefully the last, neither of the Red Bull cars finished. They must still fancy their chances of winning though even with only two races to go. My money is still on Webber to take the title, deservedly so having been the more consistent driver over the season. I think it would be a shame if Alonso takes it now.
Anyway, lets hope that the rain stays away from Brazil on 7th November and we get an exciting race.
| Driver | Team | Time |
| --- | --- | --- |
| 1. Fernando Alonso | Ferrari | >2:48:20.810 |
| 2. Lewis Hamilton | McLaren-Mercedes | +00:14.999 |
| 3. Felipe Massa | Ferrari | +00:30.868 |
| 4. Michael Schumacher | Mercedes GP | +00:39.688 |
| 5. Robert Kubica | Renault | +00:47.734 |
| 6. Vitantonio Liuzzi | Force Inida-Mercedes | +00:53.571 |
| 7. Rubens Barichello | Williams-Cosworth | +01:09.257 |
| 8. Kamui Kobayashi | BMW Sauber-Ferrari | +01:17.889 |
| 9. Nick Heidfeld | BMW Sauber-Ferrari | +01:20.107 |
| 10. Nico Hulkenberg | Williams-Cosworth | +1:20.851 |
Drivers Championship Table
| Driver | Team | Points |
| --- | --- | --- |
| 1. Fernando Alonso | Ferrari | 231 |
| 2. Mark Webber | Red Bull-Renault | 220 |
| 3. Lewis Hamilton | McLaren-Mercedes | 210 |
| 4. Sebastian Vettel | Red Bull-Renault | 206 |
| 5. Jenson Button | McLaren-Mercedes | 189 |
| 6. Felipe Massa | Ferrari | 143 |
| 7. Robert Kubica | Renault | 124 |
| 8. Nico Rosberg | Mercedes GP | 122 |
| 9. Micahel Schumacher | Mercedes GP | 66 |
| 10. Rubens Barichello | Williams-Cosworth | 47 |