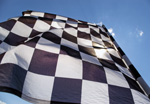 Wow what a race!
Jenson Button was hit the hardest on the Brazilian track, losing his place out of the top three for next week's race and escaping an armed attack on his car as he left the Interlagos circuit with his father!
With the track free from the harsh rains of late, Sebastian Vettel took the win, and helped fellow Red Bull team mate Mark Webber across the line.
Third place went to Fernando Alonso, who is confident that he will blast the next stage of the race at Abu Dhabi.
Lewis Hamilton made a fatal error whilst making overtaking that puts his chance of winning the Drivers World Championship too far out of reach!
It was not a good race for Felipe Massa, after a good qualifying stage the previous day he had problems with his car right from the start flag.
After checking into the pits and having his tyres changed he then collided with Sebastian Buemi, knocking him further back in the race.
It's a week away until we find out who the 2010 drivers champion is, but Red Bull cemented their maiden constructors crown in Brazil yesterday!
2009 saw them chasing Brawn GP but this year they were the clear winners, well done Red Bull!
What will the Abu Dhabi race bring us?
Why not go and watch for yourself and book a car hire from the airport to your hotel with us!