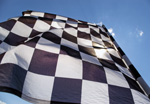 Another great race, most of the excitement being in the qualifying laps on Saturday.The rain started just before qualifying. Sebastian Vettel was out early whilst his team mate Mark Webber, the Ferrari's, McLaren's and Mercedes' remained in the pits. The rain, wrong decisions on tyres and not getting onto the track early meant that Fernando Alonso spun and was out in Q1.
Also out in Q1 was Lewis Hamilton, Felipe Massa, Lucas di Grassi, Jarno Trulli and Bruno Senna. Jensen Button ended up in the gravel early in Q2 for a grid start of 17th. Mark Webber was in trouble with two minutes to go, in position 12, but managed to pull back to 7th by the end of the session.
Pedro de la Rosa Sebastian Buemi, Heikki Kovalainen, Timo Glock and Vitaly Petrov all fail to make Q3. With all the cars in Q3 on wet tyres, with the exception of Mark Webber, and Sebastian Vettel sitting on pole, it was going to be interesting. Webber's choice of tyres meant he got pole position with Nico Roseberg 2nd and Sebastian Vettel 3rd.
The race itself got off to a good start, in the dry, with Vettel passing Rosberg and Webber on turn one. Hamilton managed to sneak up on the inside from 20th to 12th. By lap 4 Hamilton was 10th with Vettel still leading, Webber 2nd and Rosberg 3rd. Lap 7 and Hamilton got a little carried away and was warned about weaving in front of Petrov to keep him back. Lap 10 and Michael Schumacher was out with a rear suspension problem (turns out he lost a wheel nut) and Button was first to make a pit stop going from soft to hard tyres hoping that the rain did not return.Hamilton was up to 7th by lap 13, 5th by lap 21 and 2nd by lap 25: an amazing feat from starting 20th on the grid. Lap 34 saw Vitaly Petrov retire with gearbox problems and Hamilton (now 7th after a pit stop in lap 31) still unable to pass Adrian Sutil. By lap 39 Vettel was 3.8 seconds ahead of Webber who was 12.6 seconds ahead of 3rd place Nico Rosberg. Fernando Alonso made up ground despite a downshift problem but just couldn't get past Felipe Massa (8th). Massa managed to pass Button in lap 44 but Button retaliated two laps later to regain 8th position.
Lap 51 and the top 8 were pretty much set for the last 5 laps: Vettel, Webber, Rosberg, Kubica, Sutil, Hamilton, Massa and Button. Alonso passed Button on the penultimate lap only to watch him fly past again as he limped onto the grass verge in a puff of smoke! After the reliability problems of the last two races Red Bull get it right finishing first and second. Virgin managed their first finish of the season whilst it was another disappointing race for the Lotus team.So, on to China (Shanghai) on 18th April. Last year saw Vettel and Webber do the same double as they did in Malaysia this year. Can they do it again, and will the rain stay away for race this year? I think Red Bull have a very good good chance of getting two podium places again in China.
What do you think?
| Driver | Team | Time |
| --- | --- | --- |
| 1. Sebastian Vettel | Red Bull-Renault | 1:57:43:485 |
| 2. Mark Webber | Red Bull-Renault | +00:04.849 |
| 3. Nico Rosberg | Mercedes GP | +00:13.504 |
| 4. Robert Kubica | Renault | +00:18.589 |
| 5. Adrian Sutil | Force-India-Mercedes | +00:21.059 |
| 6. Lewis Hamilton | McLaren-Mercedes | +00:23.471 |
| 7. Felipe Massa | Ferrari | +00:27.068 |
| 8. Jensen Button | McLaren-Mercedes | +00:37.918 |
| 9. Jaime Alguersuari | Torro Rosso-Ferrari | +01:10.602 |
| 10. Nico Hulkenberg | Williams-Cosworth | +01:13.399 |
Drivers Championship Table
| Driver | Team | Points |
| --- | --- | --- |
| 1. Felipe Massa | Ferrari | 39 |
| 2. Fernando Alonso | Ferrari | 37 |
| 3.Sebastian Vettel | Red Bull-Renault | 37 |
| 4. Jensen Button | McLaren-Mercedes | 35 |
| 5. Nico Rosberg | Mercedes GP | 35 |
| 6. Lewis Hamilton | McLaren-Mercedes | 31 |
| 7. Robert Kubica | Renault | 30 |
| 8. Mark Webber | Red Bull-Renault | 24 |
| 9. Adrian Sutil | Force India-Mercedes | 10 |
| 10. Michael Schumacher | Mercedes GP | 9 |