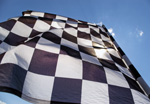 The Turkish Grand Prix and more unexpected twists and turns in the world of Formula One! Once again Red Bull found themselves in Pole position in the form of Mark Webber with Sebastian Vettel third. Lewis Hamilton having snatched second spot. Michael Schumacher found himself fifth, his best start so far this season. The first part of the race was Hamilton trying to catch Webber and Vettel trying to get past Hamilton. Vettel managed to achieve this on lap 16 when they came out of the pits due to Hamilton's team having a problem getting one of his rear tyres back on.
The Red Bulls continued to dominate the race whilst further back down the track Nico Rosberg was having problems with his tyres around lap 29 and Fernando Alonso was tenth. Lap 36 proved to be a bad one for Lotus when both Jarno Trulli and Heikki Kovalainen retire with hydraulic failures.
Disaster!!! Lap 40 and Webber and Vettel collide!! Webber managed to steer out of the collision without too much damage (needed to pit for a new nose cone) but Vettel is out! Vettel came up the inside of Webber and then turned right across him catching his rear wheel. This left Hamilton first and Jenson Button second. Bit of in team rivalry gone awry maybe? One last drama, Lap 54 saw Alonso collide with Vitaly Petrov leaving the Renault with a puncture. So, after 7 races and 3 wins for McLaren-Mercedes and 3 wins for Red Bull the battle for the constructors championship is close. The collision with Webber cost Vettel valuable points and his second position in the drivers championship table.
| Driver | Team | Time |
| --- | --- | --- |
| 1. Lewis Hamilton | McLaren-Mercedes | 1:28:47.620 |
| 2. Jenson Button | McLaren-Mercedes | +00:02.645 |
| 3. Mark Webber | Red-Bull-Renault | +00:24.285 |
| 4. Michael Schumacher | Mercedes GP | +00:31.110 |
| 5. Nico Rosberg | Mercedes GP | +00:32.266 |
| 6. Robert Kubica | Renault | +00:32.824 |
| 7. Felipe Massa | Ferrari | +00:36.635 |
| 8. Fernando Alonso | Ferrari | +00:46.554 |
| 9. Adrian Sutil | Force India-Mercedes | +00:49.029 |
| 10. Kamui Kobayashi | BMW Sauber-Ferrari | +01:05.650 |
Drivers Championship Table
| Driver | Team | Points |
| --- | --- | --- |
| 1. Mark Webber | Red Bull-Renault | 93 |
| 2. Jenson Button | McLaren-Mercedes | 88 |
| 3. Lewis Hamilton | McLaren-Mercedes | 84 |
| 4. Fernando Alonso | Ferrari | 79 |
| 5. Sebastian Vettel | Red Bull-Renault | 78 |
| 6. Robert Kubica | Renault | 67 |
| 7. Felipe Massa | McLaren-Mercedes | 67 |
| 8. Nico Rosberg | Ferrari | 66 |
| 9. Michael Schumacher | Mercedes GP | 34 |
| 10. Adrian Sutil | Force India-Mercedes | 22 |