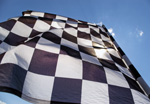 After being absent from the F1 calendar last year, the race made a welcome return to Montreal. Red Bull were hoping to put the disastrous Turkish race behind them and get back to their winning ways. Lewis Hamilton had other ideas and for the first time this season Red Bull didn't get pole position. Also, having Mark Webber demoted from second to seventh on the grid due to a gear box change, was a bit of a blow. BMW Sauber-Ferrari continued to have bad luck. Kamui Kobayashi was the first casualty of the race, hitting a wall on the first chicane and Pedro de la Rosa retired in lap 32 with engine trouble. There were early pit stops for most cars to change tyres with Fernando Alonso and Hamilton narrowing avoiding a collision in the pit lane. Michael Schumacher went into the pits on lap 12. As he rejoined the race he had a near miss with Robert Kubica and ending up going over the grass. Also in lap 12 Rubens Barrichello and Jamie Alguersuari clashed resulting in Barrichello needing a new nose cone.
By lap 50 Hamilton passed Webber and in lap 52 Jenson Button took advantage of Alonso getting stuck behind Karun Chandhok's Hispania car to go second. Schumacher had another incident when he got too close to Felipe Massa slightly nudging him. Massa briefly ran off the track and sustained front wing damage.
Lewis Hamilton managed to hold off Button and Alonso to win his second race in a row.
Next stop is Valencia, Spain for the European Grand Prix on 27th June. Can Red Bull get the momentum back and get ahead of Mclaren-Mercedes?
| Driver | Team | Time |
| --- | --- | --- |
| 1. Lewis Hamilton | McLaren-Mercedes | 1:33:53.456 |
| 2. Jenson Button | McLaren-Mercedes | +00:02.254 |
| 3. Fernando Alonso | Ferrari | +00:09.214 |
| 4. Sebastian Vettel | Red Bull-Renault | +00:37.817 |
| 5. Mark Webber | Red Bull-Renault | +00:39.291 |
| 6. Nico Rosberg | Renault | +00:32.824 |
| 7. Robert Kubica | Renault | +00:57.300 |
| 8. Sebastian Buemi | Toro Rosso-Ferrari | Lapped |
| 9. Vitantonio Liuzzi | Force India-Mercedes | Lapped |
| 10. Adrian Sutil | Force Inida-Mercedes | Lapped |
Drivers Championship Table
| Driver | Team | Points |
| --- | --- | --- |
| 1. Lewis Hamilton | McLaren-Mercedes | 109 |
| 2. Jenson Button | McLaren-Mercedes | 106 |
| 3. Mark Webber | Red Bull-Renault | 103 |
| 4. Fernando Alonso | Ferrari | 94 |
| 5. Sebastian Vettel | Red Bull-Renault | 90 |
| 6. Nico Rosberg | Ferrari | 74 |
| 7. Robert Kubica | Renault | 73 |
| 8. Felipe Massa | McLaren-Mercedes | 67 |
| 9. Michael Schumacher | Mercedes GP | 34 |
| 10. Adrian Sutil | Force India-Mercedes | 23 |