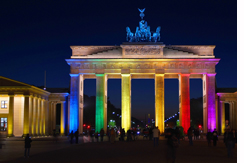 Visit Berlin between the 13th - 24th October and you can watch the amazing 'Festival of Lights'! Watch the city's buildings light up the night sky with fantastic colours. Famous landmarks that sparkle, coloured lasers beaming through the midnight sky and fireworks that illuminate the city landscape. Be sure to take your camera so that you can snap away whilst enjoying the joyous atmosphere.
It truly is a spectacular sight that kids and grown ups will enjoy.

With cheap flights from all main UK airport's, a wide choice of accommodation and car hire in Berlin, it's a perfect short break getaway!