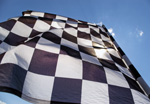 This years Formula 1 Grand Prix season is sure to be an exciting event with Michael Schumacher back in the driving seat and Jenson Button and Lewis Hamilton driving for the same team! And set to make his debut for the new Campos Meta team will be Bruno Senna, nephew of the late, great Ayrton Senna, although this won't be at the opening race in Bahrain on 14th March.
There are several other changes happening this season too that are sure to add to the excitement. Cars will not be allowed to re-fuel meaning fuel tanks will have to carry some 250 litres instead of 80. After the re-introduction of slicks last year, front tyre width has been reduced from 270mm to 245mm to enable the cars to get a better grip balance. Each driver will only have 11 sets of dry tyres instead of 14 and if they participate in the third qualifying round they must start the race with the same tyres used to set their grid time. There will be 13 teams this year, so now eight drivers instead of 5 will be eliminated in the first two qualifying rounds. Having said that, it now seems unlikely that the USF1 team will take part this year and try to defer its debut until next year. Stefan GP is making a last minute attempt to be allowed to compete this season which could open the door for Jacques Villeneuve to return. The points system has also changed and now the top 10 drivers will score points with first place getting 25 points, second place 18 points, third 15 points, then 12,10,8,6,4,2 and 1.
The final tests took place Thursday 25th to Sunday 28th February at the Circuit de Catalunya in Barcelona.
Thursday saw Brazillian Lucas di Grassi crash at turn nine and Mark Webber setting the fastest time (1:21.487) after stopping several times on the track, there being a total of 6 red flags throughout the day. Nico Hulkenberg was second fastest (1:23.144) and Nico Rosberg third (1:23.452).Friday again saw Lotus responsible for a red flag and Red Bull again stopping on the track, this time for Mark Vettel. The Lotus of Jarno Trulli also stopped due to a hydraulic leak. Fastest times were first Nico Hulkenberg (1:20.614), second Fernando Alonso (1:20.637), third was Pedro De la Rosa. Michael Schumacher was seventh (1:22.152).
Saturday was the turn of Williams to raise the red flag, twice. Rubens Barrichello got stranded in the gravel at turn five and later in the day he just stopped on the track. There were 5 red flags in total on Saturday including one for the fastest time setter Nico Rosberg (1:20.686). Second was Sebastian Buemi (1:21.413), third was Jenson Button (1:21.450)Sunday was another miserable day for Rubens Barrichello and Williams with another 2 out of 5 red flags one for a hydraulic problem. Lotus with Heikki Kovalainen driving again responsible for one after stopping on the track. Fastest today was Lewis Hamilton (1:20.472), second was Mark Webber (1:20.496) and third Felipe Massa (1:20.539). Michael Schumacher was sixth (1:20.745).
So..... who is the best driver? Which team has the best car? Ferrari have the pace and reliability but if Red Bull and Mercedes can solve their pre-season hiccups it will be a close call. And with all the changes it isn't going to be just about who can get round the track the fastest. Bahrain 14th March....can't wait!
Who do you want to see on the first podium in Bahrain? I would love to see Jensen Button get a good start to the season and win there again like he did last year.