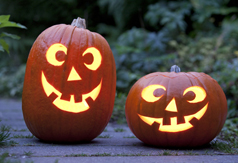 Halloween is one of the world's oldest celebrations, dating back thousands of years ago. It is in America and Canada that it maintains its highest level of popularity but it is celebrated today by more people in more countries than ever before. Here are some interesting traditions that take place in some other countries.
Ireland
Children get dressed up in scary costumes and spend the evening 'trick-or-treating' in their neighborhoods collecting bags of goodies for their Halloween party. At the parties, they play 'snap-apple,' a game in which an apple on a string is tied to a door frame or tree and players try to bite the hanging apple.
England
Children create 'punkies' out of large beets (which they call beetroots), upon which they cut a design of their choice. Then, they carry their 'punkies' through the streets while singing songs as they knock on doors and ask for money and candies.
Austria
The tradition is to leave bread, water and a lighted lamp on the table before the Halloween night to welcome the dead souls back to earth.
Mexico
A three day celebration to honor the dead who are believed return to their earthly homes on Halloween. Many families make an altar in their homes to remember deceased relatives and decorate it with candies, flowers, photographs, samples of their relatives favorite foods and drinks and fresh water.
Where are you from? Tell us about your country's traditions to celebrate Halloween.