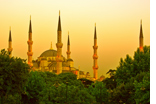 One of my most favourite things to do when I am on holiday is to enjoy seeing some history. I like walking amongst the ruins of old temples and cities and really getting a feel for what life may have been like for people living over thousands of years ago. One of the most exciting places to travel and delve into some of the worlds best historical sites is Turkey. Full of many ruins and archaeological sites that you can visit, it's a great place to have a holiday!
There are so many different cities to choose from, here are our top ones that you must visit.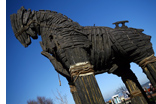 Troy:
This city existed over 4000 years ago and was the centre of many ancient civilizations. It was founded in 1822 by Charles McLaren and was ruled by Alexandra the Great in 4BC. It has been popularised in Greek Drama and can be visited today. German Archaeologist Heinrich Schliemann excavated Troy from 1870 to 1890, stole much of the treasure and destroyed a lot of the site. This is one the most famous cities in history. Trojan war with the big horse anyone?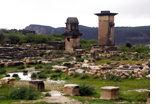 Xanthos:
First settled in the 8th century, this city is known as the city of disasters. Why? Well when the Persians invaded, the city trying to defend itself, realised that they could not stop the invasion. So what did they do? They killed all the women of the city and then committed a mass suicide by throwing themselves into fire. About 80 people survived and rebuilt the city, but after 100 years the city burnt down. Even after this the city was rebuilt again, but by resisting taxes from the Athenians in 429BC the city was destroyed again in a war. So what is left to see then? Plenty. Visit the Roman theatre or Harpy Monument in this World Heritage Site.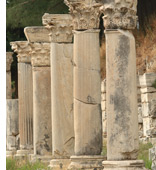 Ephesus:
Dating back to 2000BC, this city is the centre of Archaeological interest. It is home to the Temple of Artemis, which was one of the Seven Wonders of the Ancient World and the Gate of Hercules, son of Zeus. Have you heard the story of of the seven youths of Ephesus? You must find it and have a read, great story! You will find the cave the boys stayed here, in this beautifully preserved archaeological city which you can actually walk through and also admire the Library of Celsus, which has been restored over many years.These are just a taster of what there is to explore in Turkey. If you pick up a
car hire in Turkey
, you can visit these and many more at your own leisurely pace and discover the wonderful history this country has on it's grounds.
Has anyone been to Ephesus? I would really like to go and visit, and wondered if anyone had any recommendations?