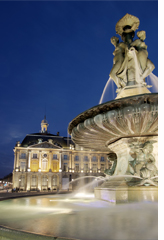 If you are still considering where to go for a holiday this year, why not take a tour around south west France. The perfect place to start is Bordeaux. Capital of the world's wine industry, Bordeaux is also a city of culture with a exciting history. It has one of the largest areas of 18th century architecture in Europe as well as the wonderful Romanesque cathedral where Eleanor of Aquitaine married Louis VII.
Hire a car in Bordeaux and drive out to Bergerac in the Dordogne region. The Place Pelissiere in the old town is surrounded by 14th century houses, one with some very odd sculptures set in its walls. On Saturdays there is a colourful market which takes over many of the side streets where you can grab yourself a bargain.
If you want to relax on the beach for a while visit Cap Ferret, a quiet peninsula with fishing boats and small wooden houses. Visit the lighthouse and climb the 258 steps for some great views and enjoy freshly caught oysters in one of the many wonderful restaurants.To the south of Bordeaux is Toulouse, an eclectic and interesting city.
Known as the Pink City because of the many houses made of pink bricks which seem to change colour as the day passes. The main square in Toulouse is the Place du Capitol home to the grand buildings of the local government.
Whatever you ideal holiday you are bound to find something to please in this beautiful part of France.
Have you been to Bordeaux? What were your favourite places?