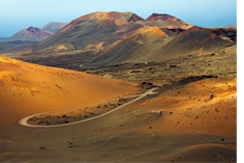 Lanzarote is the nearest Canary Island to the African coast famous for its year-round sunshine. It attracts tourists who enjoy outdoor activities such as deep sea fishing, sailing and scuba. The extraordinary coastline is a mixture of long sandy beaches and small coves. The interior of the island consists of protected areas, large plains and volcanic mountains and is best explored by car.
Enjoy some day trips with a hire car. Here are a few suggestions.
Timanfaya National Park
A volcanic habitat where visitors can appreciate a great variety of geological phenomena and a mixture of rare plant species. You can enjoy meals cooked over a large hole in the ground. There are also camel rides which take you across the volcanic landscapes.
The Green Caves
This underground cave system was formed 3.000 years ago during the eruption of the Corona Volcano.The tunnel is over 6 kms long, one of the longest lava caves in the world. Within the lava formations an extraordinary underground restaurant with a bar and dance floor have been built. In the evening this becomes a popular evening venue with dining and dancing in spectacular surroundings below sea level.
The Santa Barbara Castle
The Castle is located on top of the Guanapay Mountain overlooking the town of Teguise, a former watch tower. It is now a museum and permits visitors to venture in and learn about the History of Lanzarote.
Rancho Texas, Theme Park
This western theme park is a great attraction for the whole family. It features a nature park, an Indian village and Theme Restaurant which host Rancho Texas' legendary country and western nights. In the nature park you will enjoy a wide a variety of animals and birds including crocodiles, turtles, iguanas, armadillos and many birds of prey.