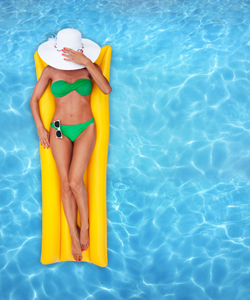 You wake up at 6.30, just like you do on normal workdays. But this time you are on holiday and can in fact sleep as long as you would like. It just feels as if you are not able to get into the holiday rhythm and you find yourself checking your work email on your Smartphone and planning future work projects in your head.
Sometimes it can be really difficult to just relax and enjoy your holiday without having to worry about your job or other activities at home.

In fact, most specialists say that you need 3-4 weeks of holiday to totally de-stress and rejuvenate. But if you only have one week available, then there are a few things that you can do in order to relax and enjoy a worriless holiday.
1. Avoid having a busy schedule with plans to do a lot of sightseeing.
2. Go to bed early and sleep as long as you can.
3. Be spontaneous! When you wake up in the morning, listen to yourself and do exactly what you would like to do.
4. Go for long walks. It will clean your mind and can sort out your thoughts. If you're going to do sports, it should be from will, not obligation.
5. Enjoy the heat and the warm weather. Do not get too much sun or heat but relax in the warm weather until you feel totally at ease.
6. Do breathing exercises or meditate for 15-30 minutes every morning and at night before you go to bed. For example: Count to one as you breath in, count to four as your hold your breath and count to two when you breath out.
7. Enjoy long and warm baths that make your body feel light.
8. Get a massage. The body relaxes when it's touched in such a way.
9. Write a diary during your holiday. Not about what you have done and seen, but about the thoughts that have passed your mind during the week. Write down everything that occurs to you.
10. Laugh and have a good time. Laughter has a very positive effect on our body and mind.

We hope that you can use some of these tips to truly relax and enjoy your next holiday!