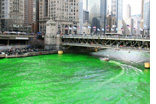 Next Wednesday is St. Patrick's Day when it is not just the Irish that will be celebrating. Whilst it is only a national holiday in Ireland there will also be festivities in the UK, United States, Canada and New Zealand.
In Canada Montreal has been holding parades since 1824 and in Manitoba they hold a three day music and culture festival. In the United States the parade in New York has become the biggest in the world with some 150,000 marchers and around 2 million spectators. In Seattle they hold a week long festival with Soda Bread Baking contests, dancing and exhibitions. This year Desmond Guinness, a direct descendant of Arthur Guinness, will be the parade's grand marshal. In Chicago they dye the river green on St. Patrick's Day.
Here in the UK St. Patrick's Day falls in the week of the Cheltenham Festival which attracts a lot of Irish people who combine their celebrations with their love of horse racing. Birmingham holds arguably the largest parade in the UK.
Manchester also have a huge parade as part of their two week long festival which also includes comedy shows, music and tin whistle lessons for children. In London the St. Patrick's Day Parade takes place on Sunday 14th March, with floats, marching bands and dancing. The stage in Trafalgar Square will have live Irish music from 11am to 6pm, whilst elsewhere in the square will be a Children's Culture Corner with stories from Ireland, shadow puppets and musical instruments. Many of the pubs around central London will be taking part in the celebrations both on the 14th and 17th March with many people wearing fancy dress or at least a funny hat!
How will you be spending St. Patrick's Day?