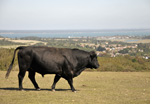 Festival season is going to be upon us very soon. It is going to come around faster than you think! Isle of Wight Festival will be taking place on the weekend of the 11th - 13th June and it is set to be great! The Festival has been blessed with sunshine for the last few years, and I remember working there a few years ago and it was amazing. I saw the Foo Fighters live which was so awesome as they are one of my favourite bands. I also saw Primal Scream, Prodigy, Coldplay and possibly one of the best moments was when The Proclaimers came on and sung 500 miles with the crowd jumping up and down singing as loud as they could. It was a great 2006 festival and I would love to go again! But this year's line up is going to be hot hot hot!
Calvin Harris:
He's done some really catchy dance songs an d who can forget his appearance on the X factor stage during a Jedward number, with a pineapple on his head?
Florence and the Machine:
Her voice is amazing! If you haven't heard Florence and the Machine then it is definitely an album worth listening to. Live she is just brilliant.
Friendly Fires:
Fun and kooky and I am a big fan of their song Jump in the Pool and Kiss of Life!
Jay-Z:
Who doesn't know the famous Jay-Z? With hits like Empire State of Mind and Encore he is going to be a great hit.These are just a few of the wonderful acts that are playing, there are many more which you can check out at
http://www.isleofwightfestival.com
and there are still some tickets available so book them before they are gone!You really must plan ahead if you are thinking about going, as you need to book a ferry spot to get over to the island! So pick up your car hire from anywhere in the UK and get yourself down to Portsmouth Harbour or Southampton where you catch your ferry to get you to the festival.Is anyone going? Who are most looking forward to seeing this year? I'd love to see Calvin Harris and Florence and the Machine again!