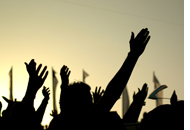 June has the most hours of daylight, between 18 to 20 hours in some parts of the UK so it's a good time to enjoy outdoor events. The festival season is nearly here so it's time to get some tickets to the best parties while you still can, some will sell out well in advance. Let's avoid the huge events that are likely to be sold out by now (Reading, Leeds, T in the park, V, Glastonbury) and look at other interesting options.
Rock Ness, Scotland (June 11-13)
This Scottish annual music festival takes place at Clune Farm, on the banks of Loch Ness near Inverness. It claims to be the most beautiful festival in the world due to its location which is home of the mythical Loch Ness Monster.This year the line-up is surprisingly strong including The Strokes, Fatboy Slim, Leftfield, Vampire Weekend and plenty more indie and electronic stalwarts make it well worth the journey.
Beach Break Live, Wales (June 14-18)
The first festival was attende by 1,000 people, now in its fourth year it expects to host 17,500. It attracted media attention when its organisers earned extra funding in Dragons Den on the BBC.This year the location has been moved to the beautiful Pembrey Country Park on the South Wales Coast. Calvin Harris, Chase and Status, Plan B, Scratch Perverts and The Futureheads are among a strong lineup of electronic and indie acts and DJs.
Isle of Wight Festival, UK (June 11-13 )
This music festival takes place in Seaclose Park, Newport. It was originally held in 1968. The 1970 festival was one the largest crowds in the world, with estimates of over 600,000 people.This year the line-up includes Jay-Z, The Strokes, Paul McCartney, Blondie and Pink among other top rock and indie names. After its success last year the Big Festival Bike Ride will be taking place again, a guided bike ride around the island that will take about an hour and a half on the Saturday and Sunday mornings before the bands start.Have you been to any of these festivals? We would like to hear about your experience.