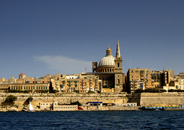 The island of Malta in the Mediterranean is steeped in history and culture. Because of its location it is an ideal holiday destination anytime of the year.
The airport is approx 20 minutes from the capital of Valletta.
In Valletta you can see the Hypogeum, an underground cavity whose excavation has yielded a plethoria of archaeological finds such as ornaments, pottery and amulets. There are three levels with the deepest room being 10.6 metres underground. You will have to book in advance if you want to visit this interesting monument though as only 80 visitors are allowed in each day to preserve the microclimate.
The Grandmaster's Palace, one of the first buildings in Valletta, is built around two courtyards in one of which there is a statue of Neptune. Today the Palace is where Parliament sits and the President has his office. The armoury has a fantastic collection of weapons dating back to 1530 and the Throne Room has frescos painted by Matteo d'Aleccio who helped Michaelangelo paint the Sistine Chapel.
If you want to sit on a beach head off to Golden Bay or Ghajn Tuffieha. Golden Bay is the more popular as it is easier to access and has the added benefit of being next to a 5 star hotel. Both have a wide stretch of soft sand, and you can partake in watersports. Ghajn Tuffieha is more difficult to access as it is via hillside paths or by a flight of 180 steps. It is quieter and more unspoilt than Golden Bay and from on top of the hill the views are stunning especially in the early morning.
St Julian's is one of the islands more popular towns for nightlife and entertainment. There are some lovely seafood restaurants and wine bars here as well as a casino. The Maltese like to go out late and stay out late so you won't have any trouble finding anywhere to eat or drink late at night.Traditional Maltese food is rustic and seasonal. Favourite dishes are rabbit stew, fish pie (Lampuki pie), and beef olives (Bragioli). There is a wide variety of fish in the waters around Malta - white bream, sea bass, red mullet to name a few. Restaurants in Malta and Gozo offer both Maltese and Mediterranean cuisine to delight and enchant you.
Gozo is part of the Maltese archipelago just 5km from Malta and easily accessible by ferry. It is more rural than Malta with a relaxed way of life. The beauty of Gozo is the villages which are peaceful, tranquil and the local people very friendly. The Town of Victoria has a market and shops but also a social atmosphere. Within the walls of the Citadel is a Cathedral and the views from the battlements are spectacular. Gharb is a pretty village on the west side of the island. Many of the houses here have finely carved stone balconies. The baroque church, in the centre of the village, is a dominant feature and has sculptures of Faith, Hope and Charity. Xlendi is an idyllic landlocked bay with caves, a rocky shore and rugged reefs which are great for scuba diving.
Have you been to Malta? Where are your favourite places to stay?