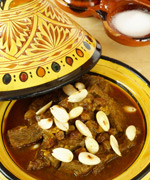 The Arabic country of Morocco is situated on the North West coast of Africa. Its cuisine is indicative of the many outside influences which have shaped its history over the centuries: Berber, African, Mediterranean, Arab and Moorish. Spices such as saffron, turmeric, ginger and cumin are abundant in Moroccan cuisine.The most famous Moroccan dish is cous cous, traditionally made from semolina which is rolled into small pellets. It is then steamed two or three times to get its light and fluffy consistency. This is served with vegetables and can be used as an accompaniment for main dishes.
Main dishes are mostly Pastilla (or B'stilla) and Tagines. Pastilla is an elaborate meat pie traditionally made from pigeon, although chicken is more commonly used today. It is made from thin dough, shredded meat cooked slowly in broth and spices with a crunchy layer of ground toasted almonds, cinnamon and sugar. Tagines are slow braised stews cooked in traditional tagine pots which are made of heavy clay and have a domed cover. Lamb or chicken are the most popular meats for this dish and are cooked with a variety of spices and fruits such as pears, prunes and apricots.
Sweet pastries are served after the main meal although it is more common to have fruit.Green tea is usually served with dinner or with the sweet pastries after. Making it is a complex ritual and takes about 30 minutes when done properly. Traditionally it is made with mint but this has declined in recent years in Morocco and sometimes pine nuts are used instead. Restaurants outside of Morocco still use mint. It is poured from a distance so that there is a foam on the tea.
Some examples of what you might find in a typical Moroccan restaurant: Moroccan Salad - Fresh herbs, tomato, cucumber, eggs, onions, olives, feta cheese and dressing.
Pastilla ba Djaje - Chicken pie, with eggs, herbs, almonds and saffron.Tagine bal Houte - Sea bass baked in tomato, charmoula sauce, lemon and saffron.Tagine Lahem bal B'tata - Lamb with potato, green peas, cumin, ginger and saffron.
Brochettes Lahem - skewers of minced lamb and herbs.
Have you been to Morocco and tried any of these mouthwatering dishes?