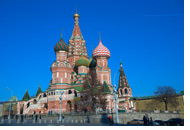 Moscow, capital of Russia, which until 1991 was known as the USSR. It is named after the river on which it stands and has a chequered history which has resulted in some magnificent architecture both ancient and modern.
St Basil's Cathedral is probably the most famous building in Moscow. A Russian Orthodox church in Red Square it was built under orders from Ivan IV (aka Ivan the Terrible, a name which refers to the immense power he had) between 1555 and 1561. There are nine chapels each with an onion shaped dome. Until 1588 there were only eight, the ninth was built to house the tomb of Basil the Blessed after whom the Cathedral is named. The exterior colours of this building are extravagant and bright whilst the inside is maze of gallerys connecting the chapels which themselves are more restrained. Ostankino Tower is 1772ft (540 metres) high, the tallest free standing structure in Europe. It is a telecommunications tower which was built to mark the 50th anniversary of the October Revolution. Due to a severe fire in 2000 the famous Seventh Heaven restaurant is no longer open but the observation floor is open for some stunning views across the city.
The Seven Sisters are a group of skyscrapers built between 1947 and 1953, during Stalin's reign of the USSR. He was concerned that ' .... foreigners will come to Moscow, walk around and there are no skyscrapers. If they compare Moscow to capitalist cites it is a moral blow for us'.
The seven are: Moscow State University, the tallest educational building in the world, Hotel Ukraina, which was the tallest hotel in the world until 1975 and is on the banks of the river, Ministry of Foreign Affairs, Hilton Moscow Leningradskaya Hotel, which has 26 floors but only 19 of which are usable, Kotelnicheskaya Embankment Building, used for housing and also meteorological observations, Kudrinskaya Square Building and Red Gates Administrative Building.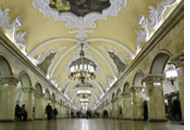 The Moscow Metro stations are spectacular! Made of marble with beautiful mosaics, chandeliers and art work they are worth seeing. Mayakovskaya Station is one of the finest and one of the most famous stations in the world. The ceiling mosaics are exquisite. Ploshchad Revolyutsii Station is another stunning piece of architecture. Its red and yellow marble arches house bronze sculptures which represent the people of Russia including soldiers, farmers, athletes and school children. There are 72 of these sculptures in all.There are many more buildings such as the Bolshoi Theatre and the Moscow International House of Music which are also magnificent examples of the architecture to be found in this interesting city.
Have you been to Moscow? Where are your favourite places to visit?