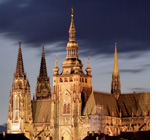 Prague is a beautiful city. I have been there myself when my partner took me away for our anniversary. It was an amazing 4 days away and we saw the entire city! In saying that, there is a lot to see in Prague, so much so that I wish I could list them all! Instead, I have decided to list my personal top 5 things to see in Prague.
Observation Tower
- This was fantastic. We had to walk up some very steep hills in Petrin Hill to get to it and on the way passed Church of Saint Michael, which looks like a Japanese style building, but beautiful. Carrying on up the very steep hill, we eventually reached a beautiful garden of roses of all different shapes, sizes and colours. You will also walk past the Church of Saint Lawrence which is stunning. Finally you will get to the observation tower and there are no lifts to get to the top! You have to walk but it is worth it as it the views are absolutely stunning!
St Vitus Cathedral
- Another walk up a very big hill, this Cathedral is just beautiful. It lights up at night giving it a wonderful atmosphere and inside there is stunning ceiling work for you to admire. You can also walk through the castle and explore the grounds, watch the changing of guards and stroll hand in hand through the Royal Gardens.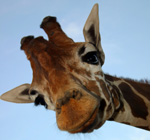 Prague Zoo
- It was a lovely day when we decided to go to Prague Zoo. There were so many animals from Polar bears to lions and tigers as well as mountain goats! I spent about half an hour wondering how on earth they got up high without falling down the mountains! There are birds and turtles and lizards, it is just amazing! Also you can admire all the people walking their dogs and go to the gift shop to buy a souvenir.
John Lennon Wall
- Since the 1980's this wall has been filled with many Lennon-inspired graffiti and lyrics from The Beatles songs. The wall changes continuously, so everyday you will find something new, but the artwork here and lyrics are amazing and so inspiring. I spent a good hour reading everything people had wrote on the wall, some even bought me to tears. From here you can also find a water wheel with a metal fence covered in padlocks. It's a way people lock their love for one another, how romantic!
Wenceslas Square
- A wonderful walk up to the National Museum, Wenceslas Square is a very vibrant area of hotels, restaurants, clubs, shops, bars and apartments. Prague's main shopping area begins here. It's great to wander around and admire the shops and people in this bustling area; and the view of the National Museum from a distance is amazing. Once you get up to the national museum (buying a coffee on the way of course!) you can just sit and people watch for a while, relaxing on the steps. You can take another stroll from here to the second main square in Prague, the Old Town Square which dates back 600 - 700 years. The most notable attraction is the Astronomical clock.
That is my personal top five in Prague. Have you been to Prague? What did you enjoy?